Home » News
[BBC, Wednesday, 1 May 2013 07:47 No Comment]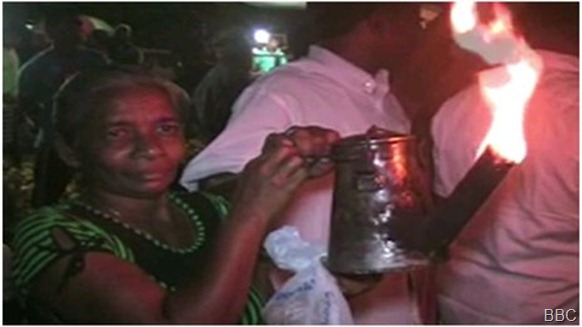 There's big controversy in Sri Lanka over a sudden and very large jump in domestic electricity prices.
Ordinary people, already suffering from regular and difficult rises in the cost of living, are now seeing their bills rise by 50%, 90%, even up to the biggest hike 127%. And the poorest people are seeing some of the biggest rises.
Down a narrow alleyway, behind and almost hidden from an affluent street in central Colombo, the houses are crammed closely together. Their upper stories almost touch. Cheeky children suddenly appear on rooftops and shout "hello" to the visitor.
Here live families who earn little. Most of the men drive motorised rickshaws or are jobless. It is the kind of place where people use electricity for very modest needs – a TV here and there; ceiling fans and fridges which are needed in the hot and humid climate; the occasional small luxury like a fishtank.
These people have been very hard hit by the jump in electricity prices.
"It's very difficult," one woman, R Malika, tells the BBC. "I had a red bill from the electricity department saying it would be cut. So I went there to pay. They said it would be increased. So they tell us to reduce the usage. But how can we reduce? You can't stay without bulbs, you can't stay without fans so it's very difficult."
[Full Coverage]
(For updates you can share with your friends, follow TNN on Facebook, Twitter and Google+)